Design Innovation
FlightSafety International Scheduling App
Team Composition
Collaborated with one UX Researcher, 2 Lead Product Managers, 5 Developers Pairs and 1 QA
Skills and Tools
Figma, Zeplin, Azure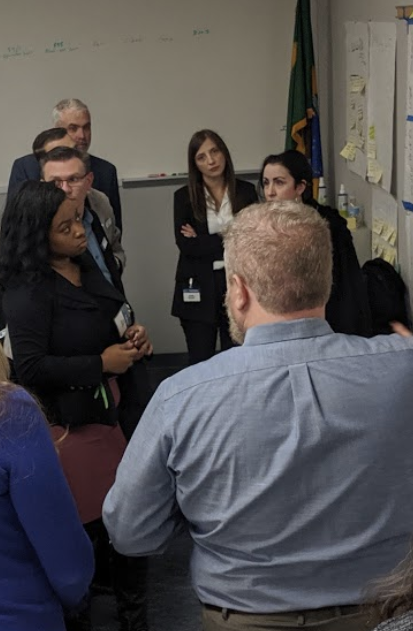 Engagement Overview
Project Brief
FlightSafety International ('FSI') approached ThoughtWorks with the goal to obtain a competitive advantage within the industry. FSI is a pilot training facility that works primarily in the private transportation sector.
The Problem
FSI was completely unsure of what they needed to tackle. They were also extremely behind in terms of technology and most of their current processes were manual. This meant that my team would need to conduct lots of research and a series of workshops in order to identify the client's needs.
The Goal
Conduct a series of workshops and research studies to help identify the client's primary needs

Determine the best way to display updates to the course calendar
Responsibilities
Lead UX/UI designer working along with a UX Researcher
Tools
Figma, Zeplin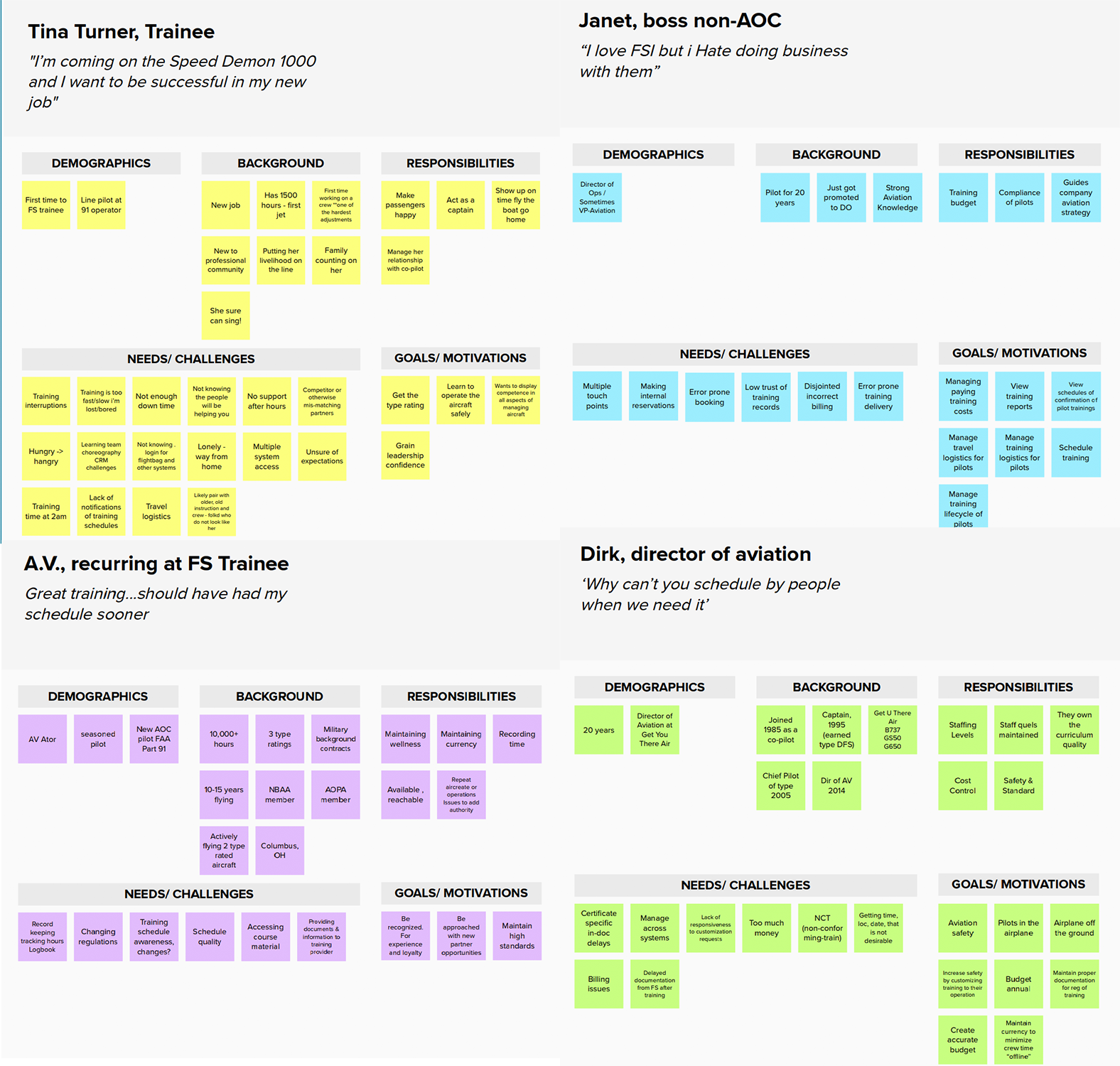 Personas
In an effort to identify our personas, I facilitated an exercise with our clients to do an elevator pitch exercise where they would communicate their vision for the product. The prompt asked the group how they would envision talking about the product to someone in less than a minute which included mentioning who the product was for. From there, we took the roles mentioned and affinity mapped them. After that, the group stack ranked the personas after determining whether or not they played a key part in the new client journey.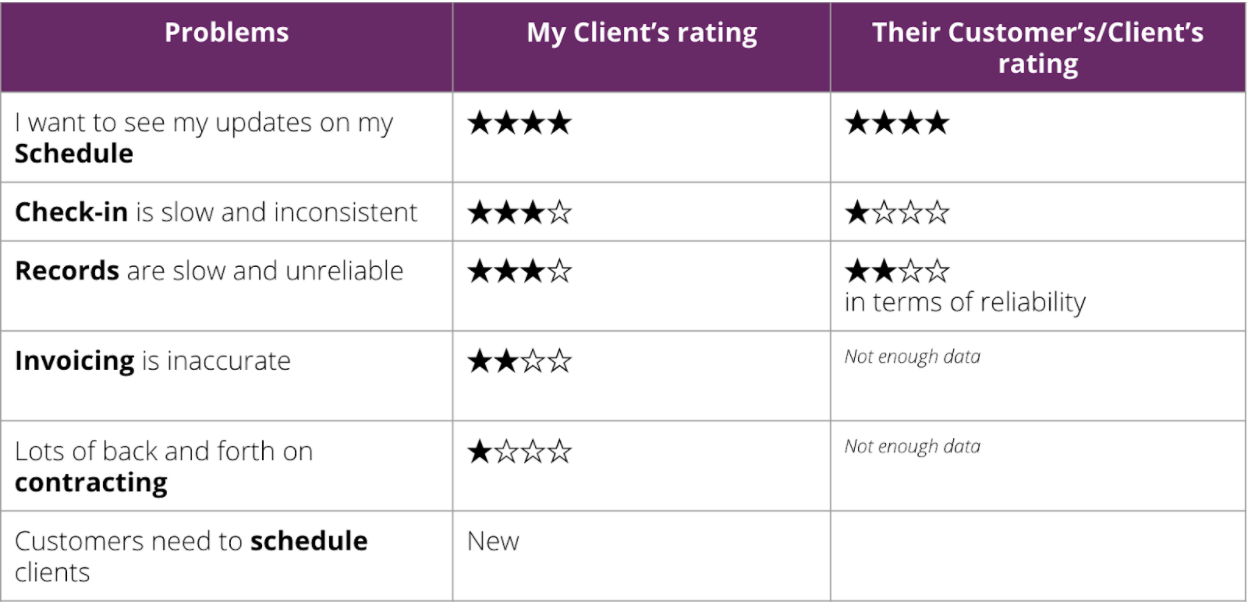 Interviews
During our user interviews, we spoke with those who fell within the roles of our personas to identify their key goals, pain points and their ideal journey. We discovered that most of the problems our client identified weren't considered problems to our target user at all. It was the inability to know when a pilot's schedule was updated seemed to be the biggest pain point. Although the client had initially hypothesized that pilots had a desire to know their schedule, what we found was that pilots cared less about actually knowing the details of their training from a day to day basis and only had a desire to know when start or end times had changed. This is because typically clients plan ahead of time to book travel to and from trainings. Once they're at a center to attend the training, they care less about the minor details because typically they have prepared to be at the training for a certain time period of time that day.
However, we also found that this differed depending on whether or not the pilot had attended a training before or if they were new. Newer pilots did want to know the details of their training schedule especially if they were new to the center. Other things we discovered that were of interest were things like center maps, information for travel logistics and other details of the training like instructor names.
As a team with input from our client and their clients/customers, we identified following problems and rated them based on the feedback we received.
Given this information, we decided that for the first release we wanted to tackle giving the user the ability to see updates in their schedule.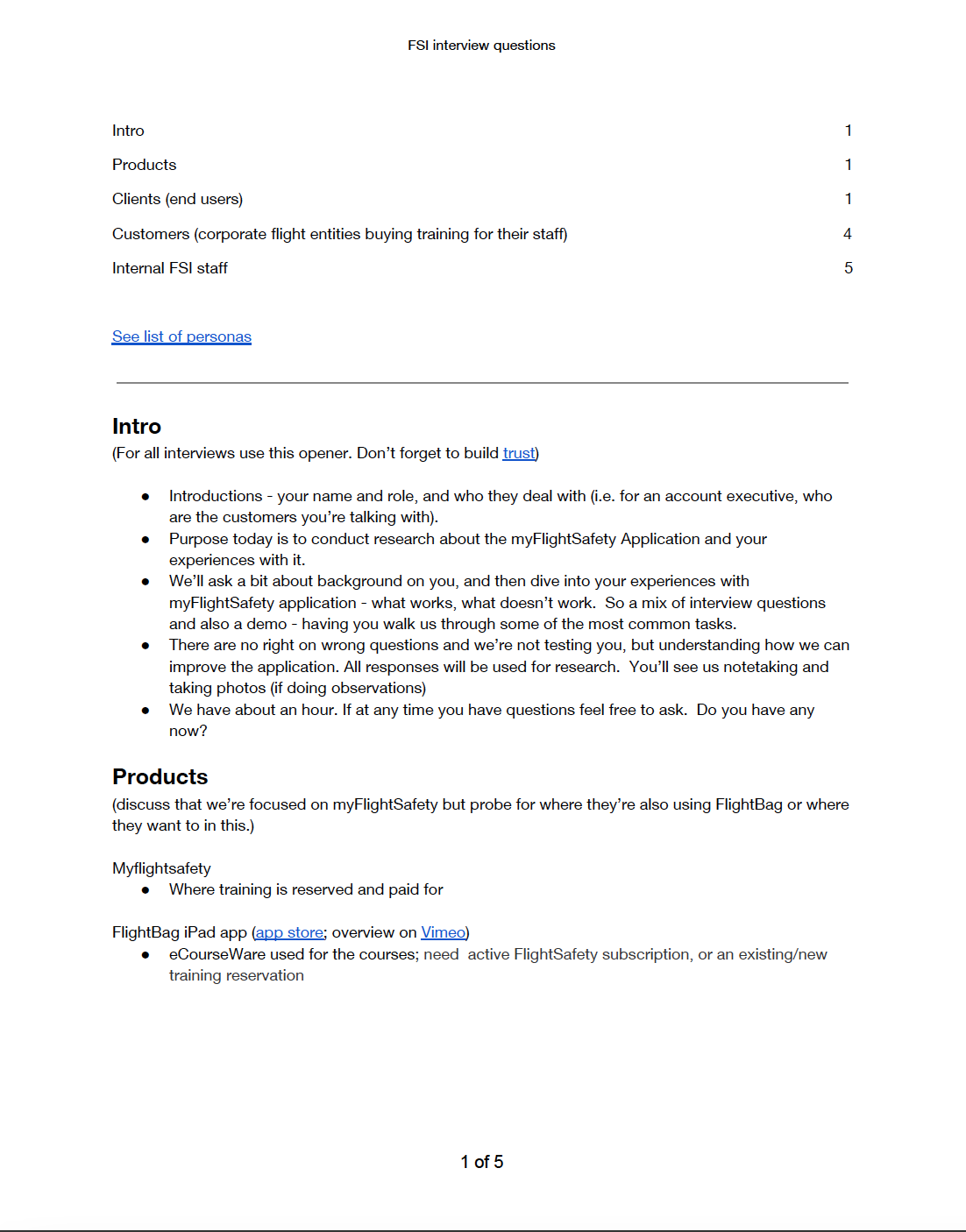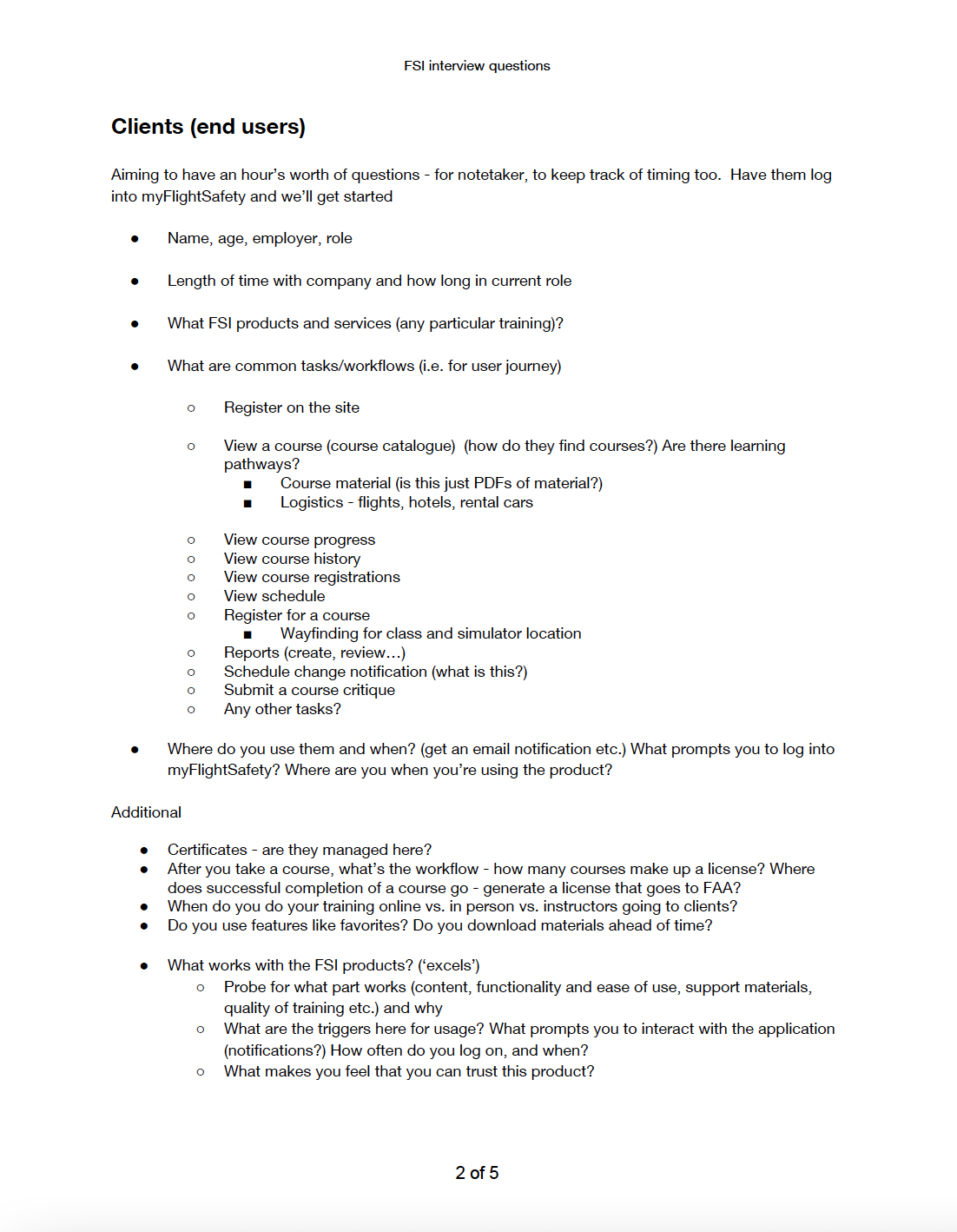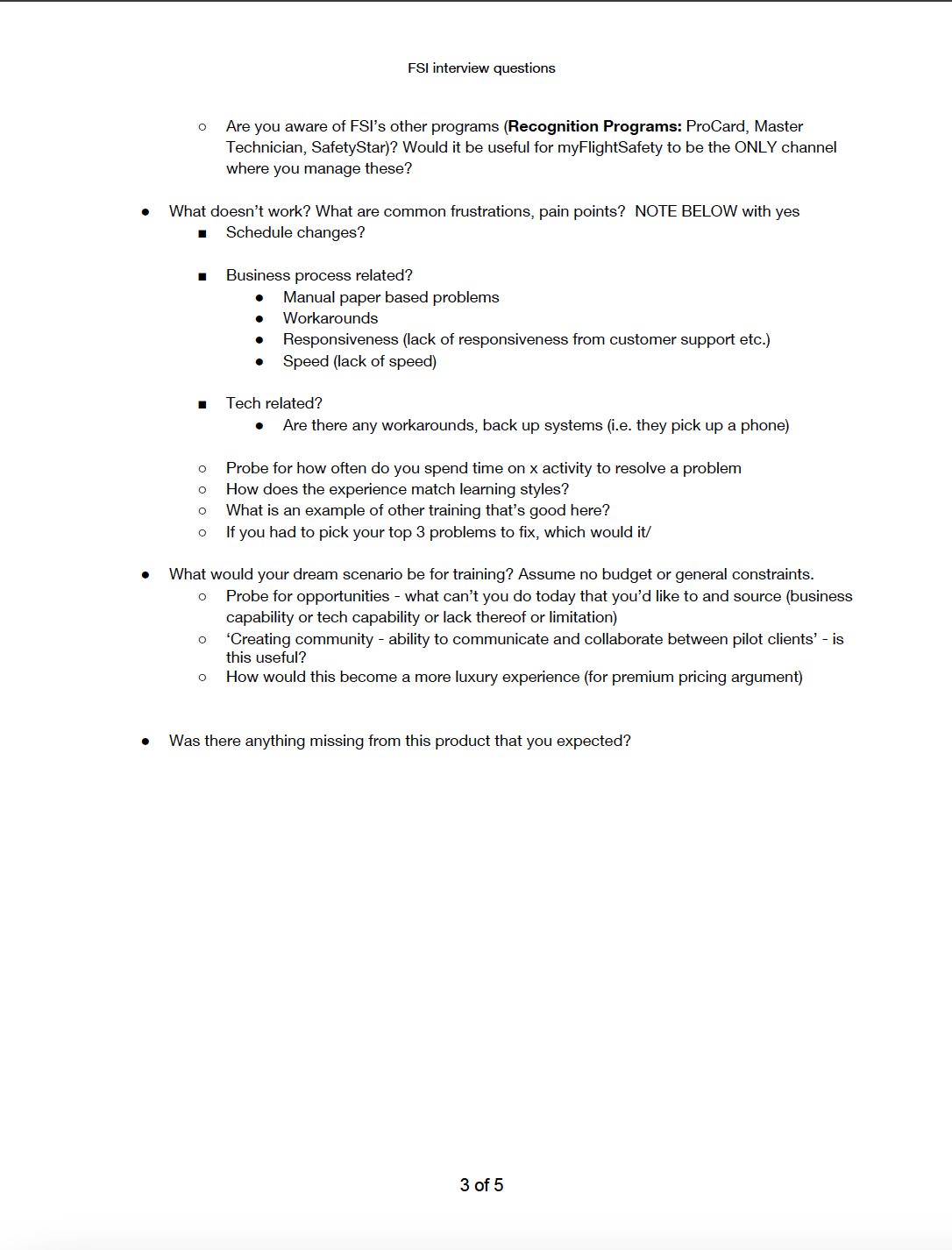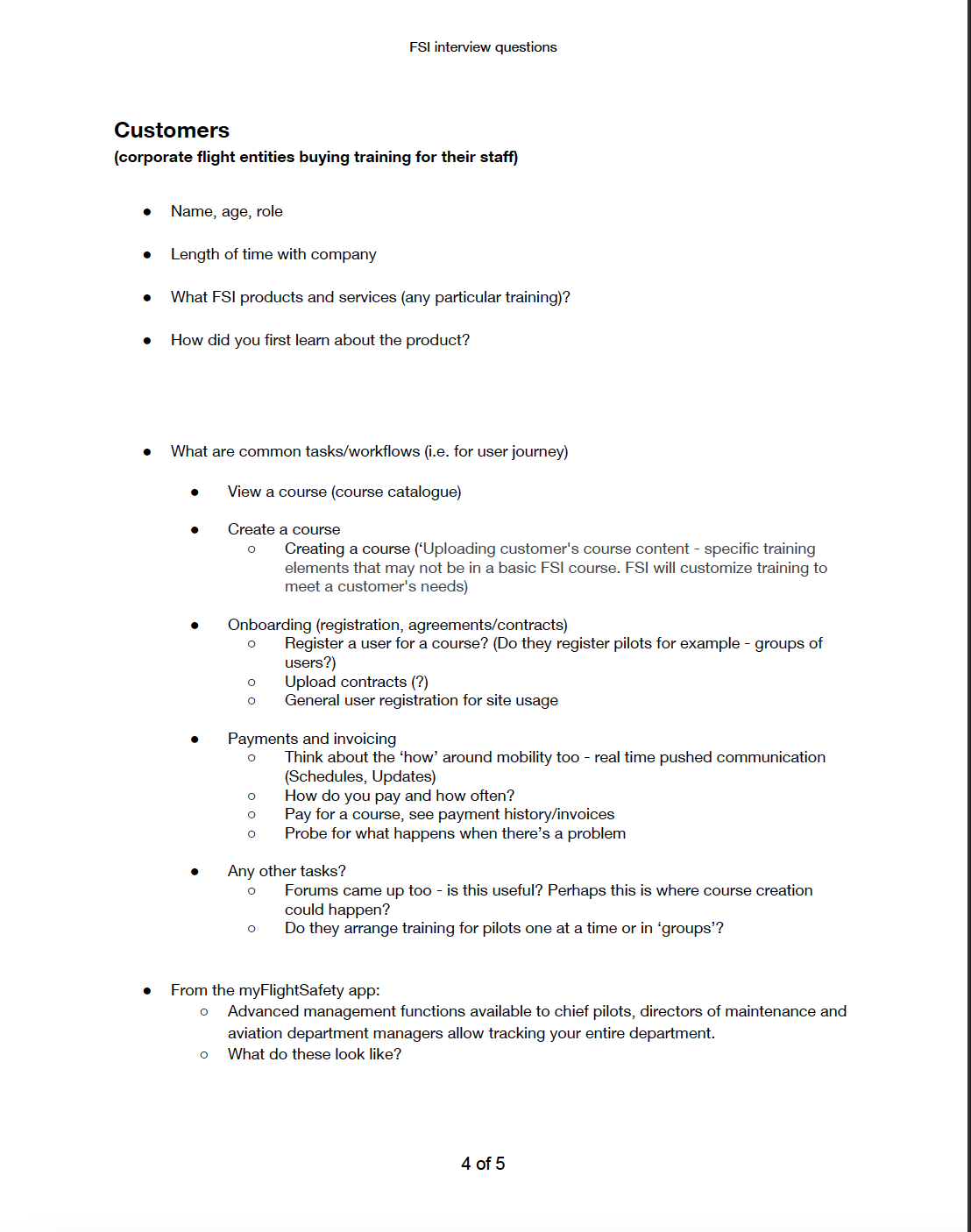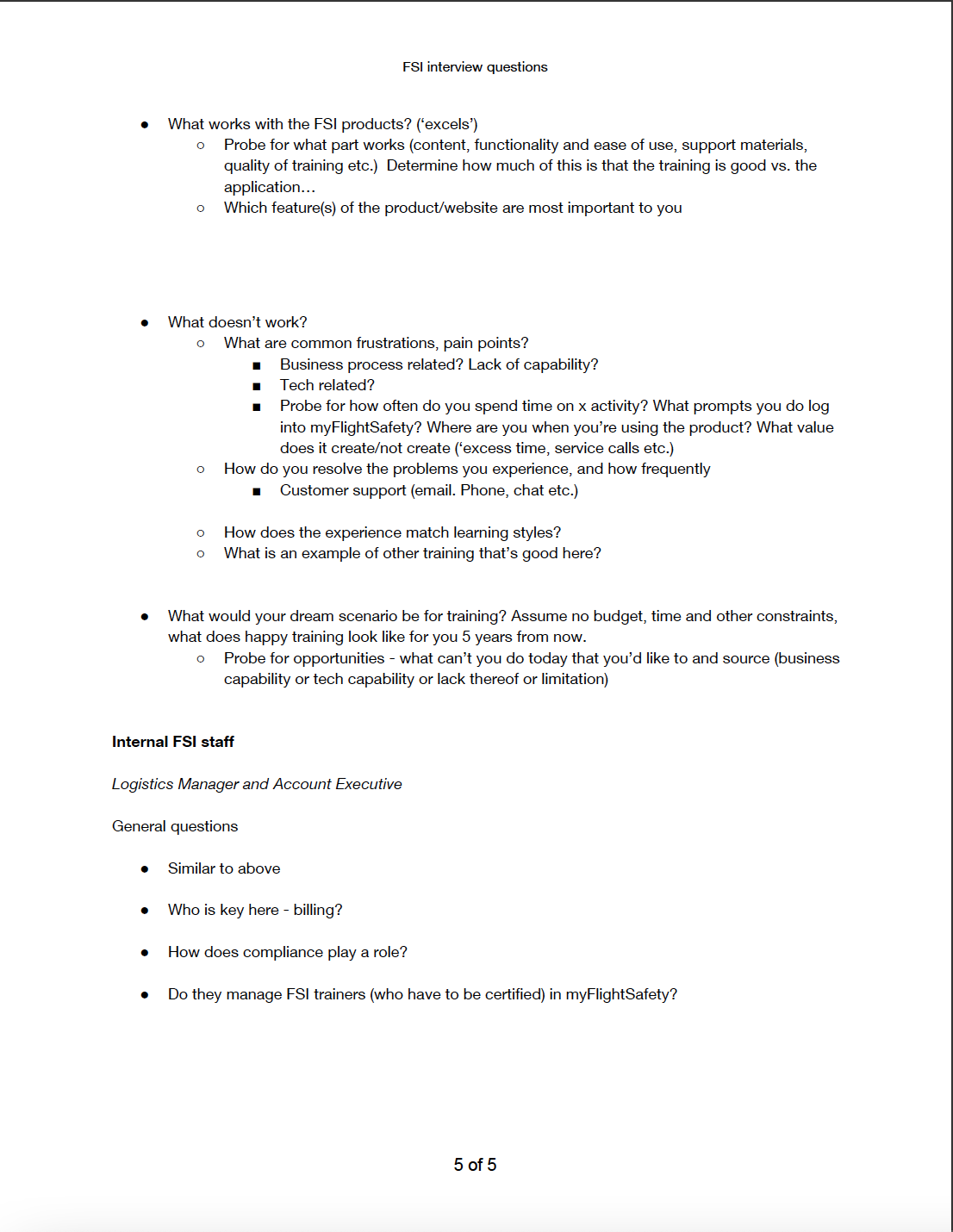 User Journey
I facilitated the creation of a user journey which later turned into a service blueprint map. Since prior workshops had taught us that the journey was different based on the time period leading up to the class, we decided to use those stages in order to capture what the journey was like for trainees. We also highlighted where it was different for other personas.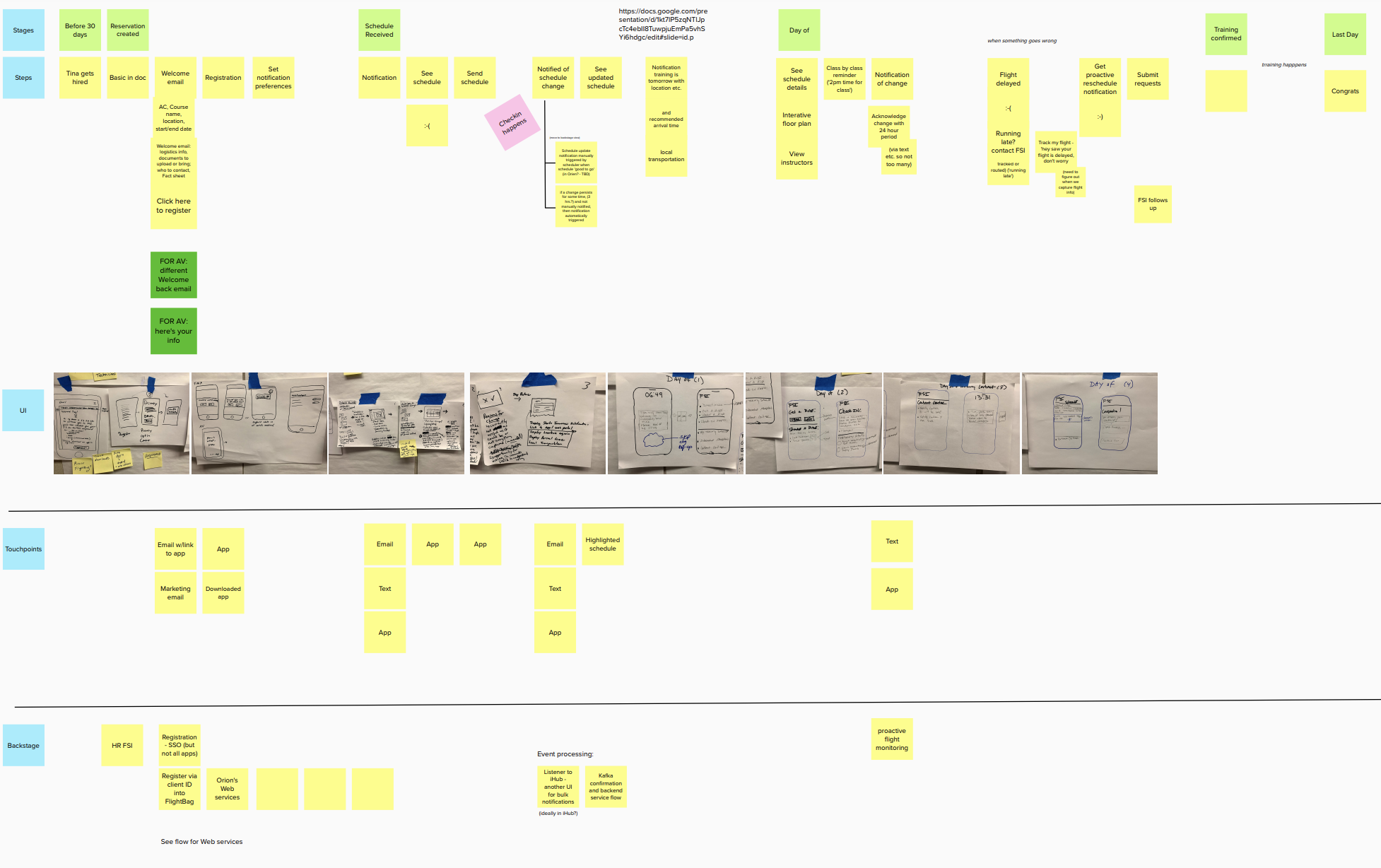 Design Charrette
After determining that our first product release would be around schedule updates, I then facilitated a design charrette with our client. The purpose of the design charrette was to collaborate with our client to quickly sketch designs to explore and share a broad diversity of ideas.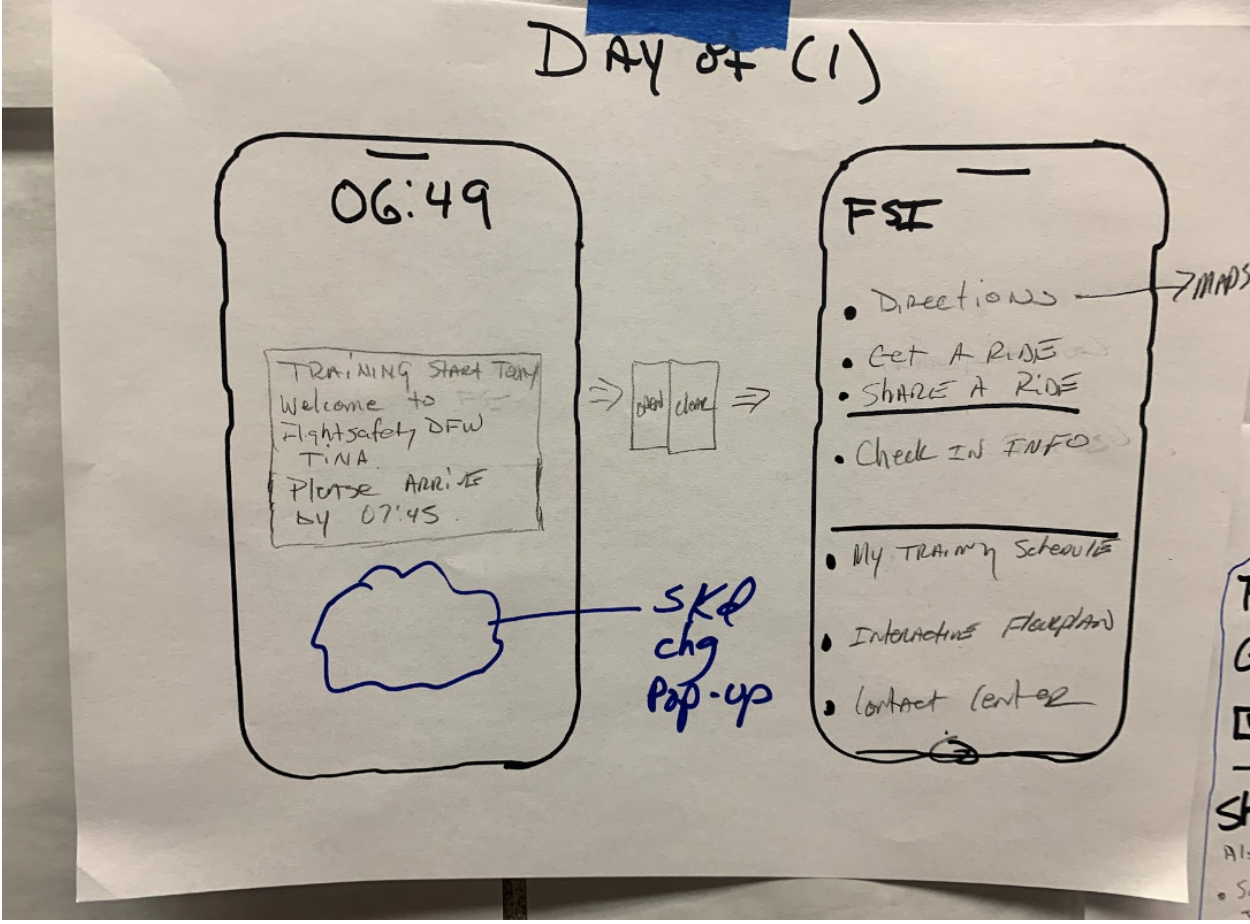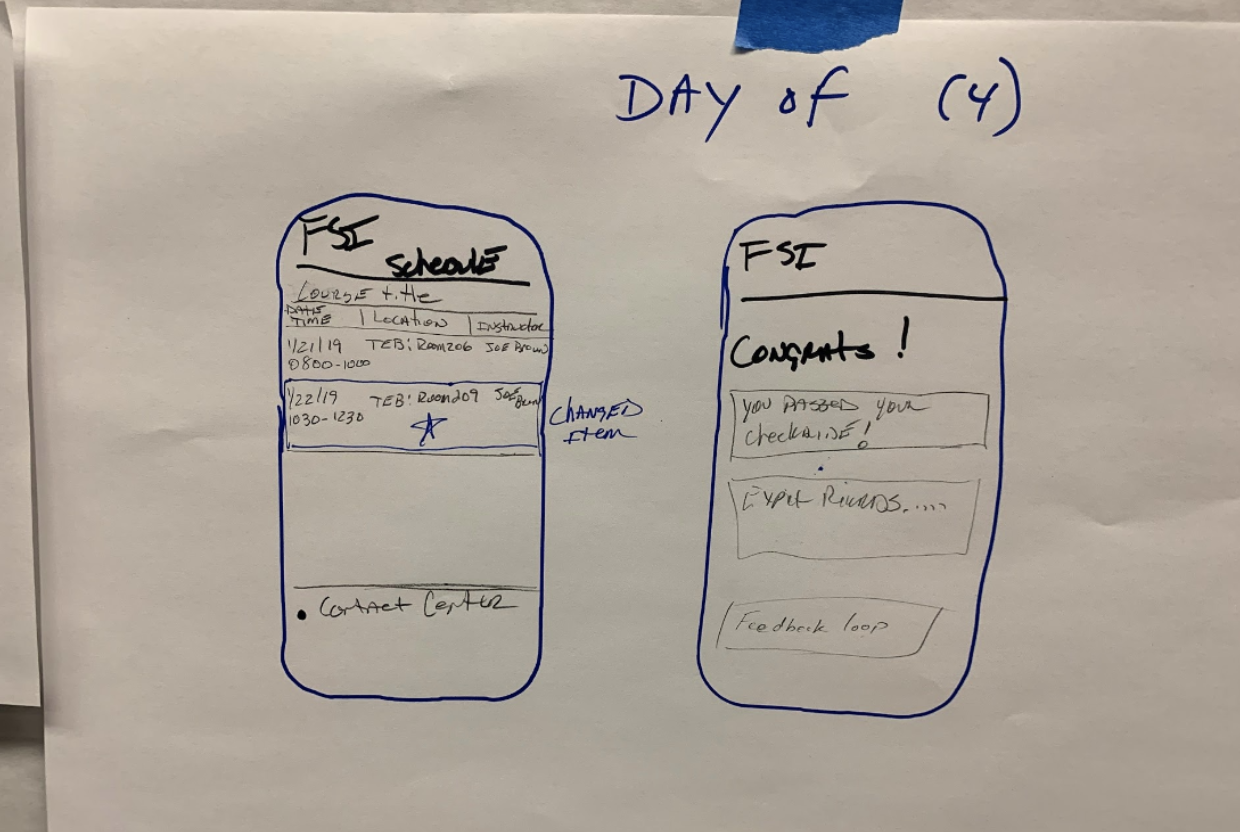 Requirements Gathering
We synthesized the results of the design charrette and determined that the direction we wanted to go in was to have a schedule view with notifications that were pushed to the client's mobile device to inform them of schedule changes. Also within that schedule view would be detail pertaining to the pilot's schedule.
Next, we sketched 3 possible solutions to approach users for usability testing.
Wireframes
Those sketches were then converted into wireframes to take to our users for further research.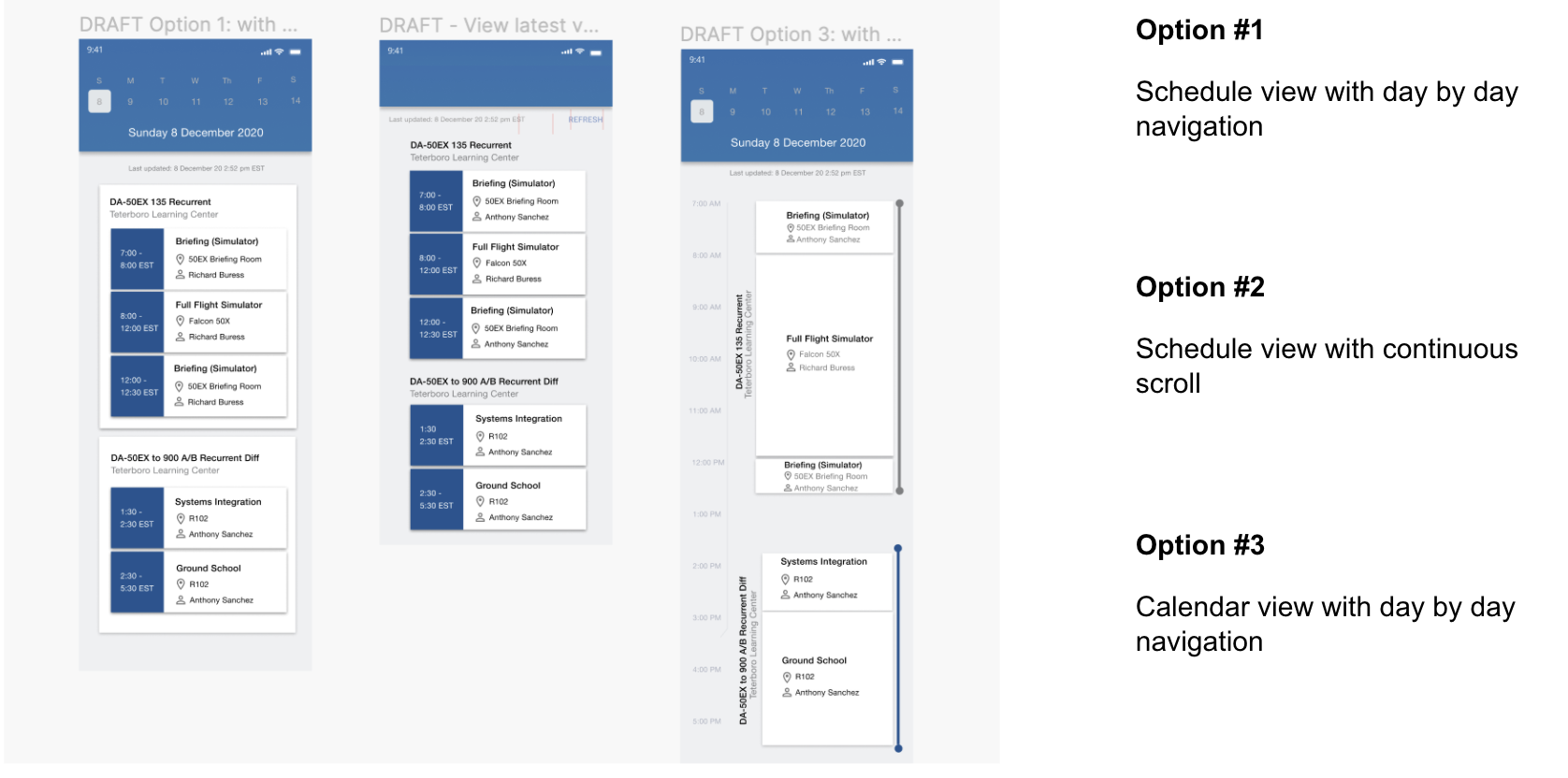 User Testing
We discovered that pilots largely wanted an experience that mimicked their current one which was a scrollable schedule view that showed their classes for the day with the name of the class, instructor name and room number.
Final Design Artifacts
Our first release was a mobile app with an interface where the user could select a training and see their schedule over the course of the training. To solve the problem of the user needing to be aware of changes in their schedule, we also designed an enterprise application to send push notifications to the mobile app when the client had received recent updates. The notification would then link the user to their schedule where they would then see the activity that had incurred a change highlighted.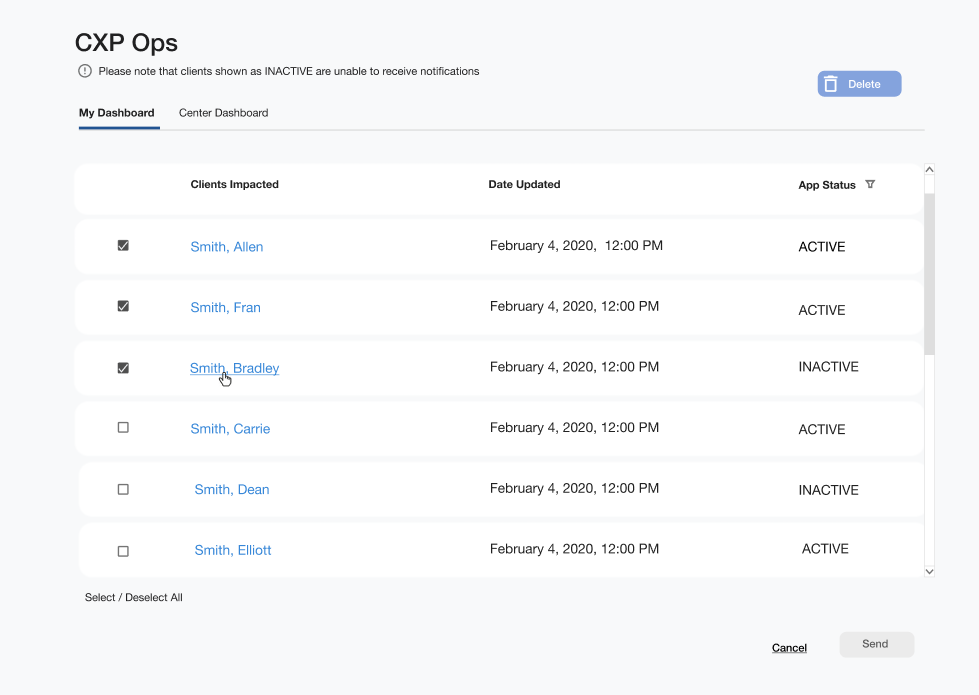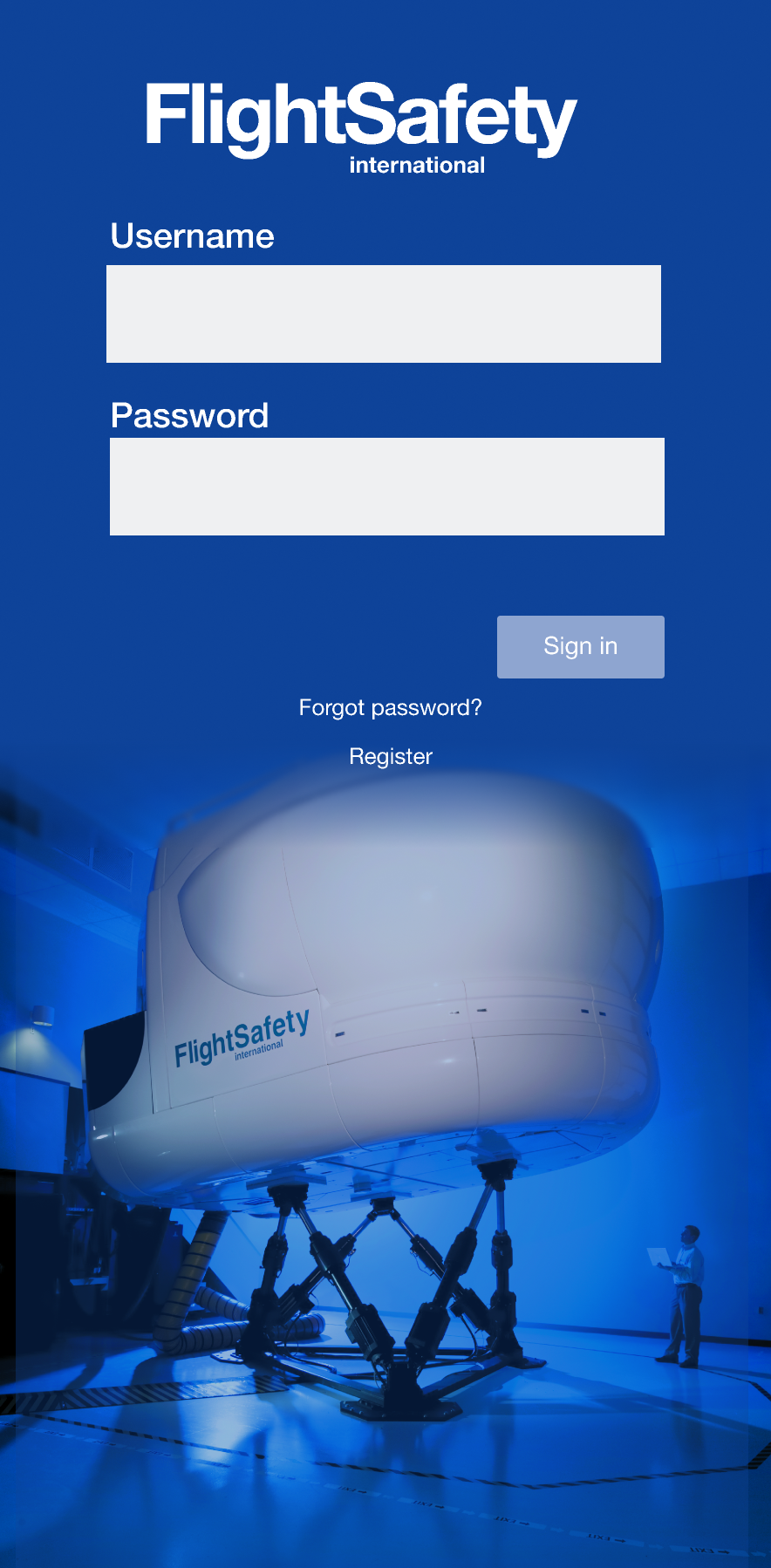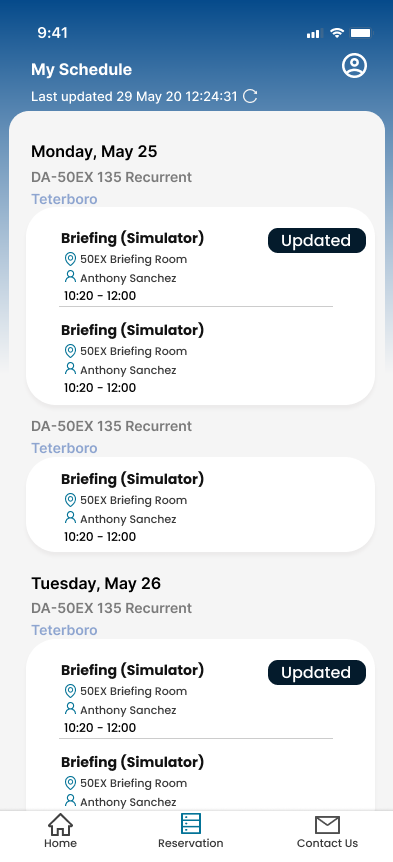 Delivering Our MVP
1000+ Downloads; WAU 500
5 Star Rating in Google Play and Apple Store for the first 4 weeks
36% Churn rate
We iteratively designed, refined & built our MVP over a 4 month period. We were able to surpass the expectations by receiving over 1000+ downloads within two weeks thanks to our go to market strategy. The app continued to maintain a 5 star rating in the Google Play and App Store during the duration of my time with the client post launch.

However, as expected we did notice an increasing churn which we associated with to limited functionality and nature of the business. Typically their users would only visit the app when trainings were on the horizon.
Learning and Successes
The app has maintained a 5 star rating several months the release. We've received lots of client feedback stating that they have found it to be extremely intuitive and easy to use. We've closely monitored metrics and requests we've received through the app's "Contact Us" feature. Using this data we've been able to identify other areas for process improvement and future recommendations:
We noticed that there were requests from users to schedule trainings. We've recommended incorporating a feature where our users can schedule their own trainings using the mobile app instead of having to reach out to the client's account representatives via phone.
One thing I learned during this project is the importance of dedicating time to my design process. In a process that involves multiple players that is also ever changing as technical complexities and new requirements come into play, it is essential to make sure that a thorough design analysis is always done. It is also important to constantly act as an advocate to ensure that the user's goals are being considered and that the best solution is implemented. Also, circling back with our users was essential to the success of our product.